---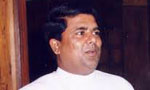 Home Affairs Minister Vajira Abeywardana today said singing the National Anthem at the 68th Independence Day celebrations at Galle Face in Sinhala and Tamil was not an issue because the Constitution clearly states that Sinhala and Tamil are national languages and as such it could be sung in both languages at any State function.

He told the media at the Prime Minister's office that the singing of the National Anthem in Tamil was not a new phenomenon because the National Anthem was sung in Tamil at the first Independence Day celebrations in 1948 and at many State functions since then.

"One must realize that there is no use of singing the National Anthem in Sinhala in Kilinochchi or in Tamil in Matara. The government has done much for reconciliation and promoting communal harmony following the electoral victories of January 8 and August 17 last year. The 68th Independence Day celebrations will be a catalyst to the positive developments in the country," the minister said.

He said the official 68th Independence Day celebrations will be held at Galle Face Green on Thursday from 8.00 am to 12.00 noon.

The main ceremony will be more colourful with the singing of the National Anthem, Jayamangala Gatha and 'Devo Wassathu Kalena' by a bevy of girls from 13 schools.

Nearly 8,917 personnel from the Army, Navy, Air Force, Police and Civil Defence Force will take part in the march past.

There will be a 21-Gun Salute to President Maithripala Sirisena by the Sri Lanka Army and a 25-gun salute to the Nation by the Sri Lanka Navy.

The Buddhist, Hindu, Christian and Muslim religious ceremonies for the 68th Independence Day celebrations will be begin today with an all-night Pirith chanting ceremony at the Independence Hall.
The Traffic Police has put in place a special traffic plan effective from Tuesday to Thursday.

Defence Secretary Karunasena Hettiarachchi and Police Chief N.K. Illangakone were present at the news briefing. (Sandun A Jayasekera)