---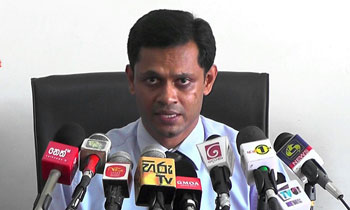 The Government Medical Officer's Association (GMOA) today said there was a shortage of 'Tamiflu' antiviral medication in hospitals which is used for the treatment of the Influenza virus, widely spreading in the country.
While condemning the statement made by Health Minister Dr. Rajitha Senaratne that the GMOA has attempted to topple the government, GMOA Assistant Secretary Nalinda Herath told a media briefing that the Minister was trying to deviate the attention of the people on several issues at the ministry by making such statements.
"Influenza virus has been highly spread throughout the country and many of the innocent patients were suffering from it. But unfortunately the Health Ministry has failed to provide them with enough medicine," he said.
He said they have never intended to topple any government earlier and would never do so even in the future through several steps they have taken to safeguard the health sector.
He said that there was nothing to feel surprised at the behaviour of the Health Minister towards the GMOA since it was evident that the government had approved the opinion of the GMOA on the SAITM issue in the Education Ministry's decisions about it last Friday.
"We have never supported to topple any government or never worked partial to bring any government to power. Our members have empowered our leadership to safeguard their rights. We would not let any damage cause to health sector no matter what the government is," he said.
He also denied the remark made by the Health Minister that the GMOA has threatened the acting Director General of Health Services (DGHS) during a discussion held between the GMOA and him. (Kalathma Jayawardhane)