---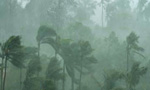 Heavy rains exceeding 100 mm were expected in some places specially in the Southern and Eastern parts of the country as the disturbance that persisted to the South east of Sri Lanka was likely to develop in to a depression and move closer to Sri Lanka, the Meteorology Department said today.
Issuing a severe weather advisory valid for next 12 hours starting from 11.30 am today, the department said the possibility of sudden roughness of the sea associated with sudden increase of wind speed up to 70-80 kmph could be expected over the surrounding sea areas.
It said cloudy skies and thundershowers were expected over most parts of the country.