---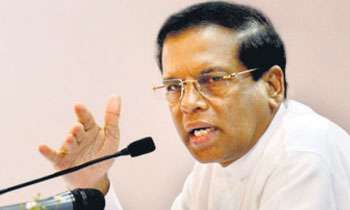 Sri Lanka is currently facing various problems because of the personal agendas of politicians, President Maithripala Sirisena said today.
He said this at a ceremony to mark the 25th death anniversary of former President Ranasinghe Premadasa at Hulftsdorp last morning.
"Many politicians forget the aspirations of the people and give priority to their personal goals. They give priority to their personal dreams. This is the political culture we have in this country today. I had a good rapport with with President Premadasa though I was an opposition MP during his tenure as the President of this country. He rendered a yeomen service to the poor and the marginalized. He gave priority to the needy instead of his own needs. President Premadasa underwent a lot of suffering which a person who rose up from grassroots level has to undergo. He faced several problems because he was not from the elite and was assassinated in the end. This is the common fate of leaders who emerged from the grassroots have to face," the President said.
He said it was important to determine why the people in this country decided to change the government on January 8, 2015 and in August the same year. "It is important that we do not commit the mistakes which we have made before. We have to complete the task which people wanted us to fulfill in 2015," the President said.(Yohan Perera)