---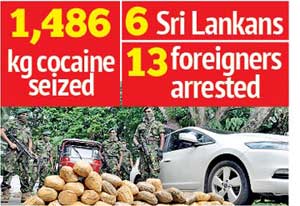 Nearly 930 kilograms of cocaine seized in Sri Lanka will be destroyed in public this month, Special Task Force (STF) Commandant Senior DIG M.R. Lateef said yesterday.
He said President Maithripala Sirisena had directed that they be destroyed and would be done so in public on the instructions of the Attorney General.
The DIG said another stock of cocaine weighing more than 1,200 kilos, which were held as court productions would also be destroyed on or before December this year.
He said it was a common practice to store the seized narcotic drugs until court proceedings were completed. "The government analyst has removed samples from the 1,200 kilos of cocaine and we will destroy them publicly based on a court order," the DIG said.
According to the Police Narcotic Bureau 1,486 kilograms cocaine were seized last year and six Sri Lankans and 13 foreigners arrested in this connection.
The largest detection of narcotics last year was that of the 301 kg seized in July and the 928 kg seized in December. (Darshana Sanjeewa)