---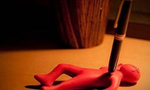 A trishaw driver who had abducted two young Scottish women from Kandy town and attempted to sexually abuse one of them at an abandoned house in Hantane had to flee the place as the second woman had stabbed him with a pen.
However, the man had managed to grab the valuables of the women before he fled in his trishaw. He had taken away a mobile phone worth Rs. 90,000 and a bag containing Rs. 30,000 belonging to the women, police said.
The women, staying in a lodge at Sangaraja Mawatha in Kandy had come to the town in the night of the Sinhala and Hindu New Year Day and hired the trishaw to return to the lodge.
The trishaw driver had deceived the women and taken them to an abandoned house in Hantane and attempted to molest one of them when the other woman had stabbed him with a pen forcing him to flee.
Kandy police are conducting investigations to apprehend the trishaw driver.