---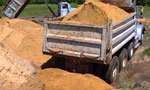 Regulations are to be implemented from next year that will require all lorries transporting sand to be GPS-(Global Positioning System) enabled, Mahaweli Development & Environment Ministry Secretary Udaya R. Seneviratne said today.
He said lorries should be registered with the Geological Survey and Mines Bureau and a valid licence obtained to transport sand and for sand mining.
"From January 1, 2017, the Geological Survey and Mines Bureau is to introduce and install a new GPS tracking system for each and every registered lorry. Sand transportation will be restricted only to those lorries that have GPS tracking systems. Those lorries will be monitored by a special team deployed by the Geological Survey and Mines Bureau. The team can monitor the times and locations of sand loading and unloading, and they will be able to note the route taken to the destinations," Mr. Seneviratne said.
Meanwhile, Mr. Seneviratne said a specific time would be implemented from tomorrow for sand mining and transportation within and out of the districts.
He said each and every lorry that transports sand within the district should be of less than three Cubic Meters. "Those lorries can transport sand between 6.00 p.m and 6.00 am. The sand mining can be done from 6.00 a.m to 6.00 p.m with a valid permit. Sand mining will not be allowed in the night. There is no restriction to transport sand in lorries of less than three Cubic Meters within the district where sand mining is done," he said.
"Permission will be granted to transport sand out of the districts to lorries of more than three Cubic Meters from 6.00 p.m. to 6.00 a.m only," he added.
By introducing these measures the Geological Survey and Mines Bureau hopes to reduce illegal sand mining and transportation in the country and to minimize the environmental damage, Mr. Seneviratne said. (Chaturanga Pradeep and Indika Sri Aravinda)
Video by Indika Sri Aravinda