---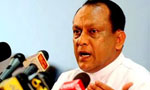 The SLFP Committee headed by Minister Nimal Siripala de Silva to review the recommendations of the COPE report in respect of the bond scam was to meet for the first time today at the official residence of Labour and Trade Union Relations Minister John Seneviratne, State Minister of Finance Lakshman Yapa Abeywardana said.
Minister Abeywardana told reporters at the weekly SLFP news briefing yesterday that the committee would submit a report within 15 days to President Maithripala Sirisena for him to decide on the next course of action on the racket.
Minister Abeywardana said the CC that met on Monday night chaired by President Maithripala Sirisena appointed the Nimal Siripala De Silva-led committee and it requires to submit a report to President Sirisena with recommendations.
"The SLFP has decided to go to the bottom of the Bond scam and to take legal action against perpetrators if any. We do not want to sweep this under the carpet or save anyone responsible for the misappropriation of the public money. We want to see an end to this sordid transaction as early as possible," Minister Abeywardaba stressed.
Responding to a journalist, Minister Amaraweera said the committee had been mandated only to review the COPE recommendations and added COPE had not made any incriminating remarks on Prime Minister Ranil Wickremesinghe and therefore it was wrong to drag him to the controversy.
"We don't not want to politicize this issue. But the scam is serious and damaging and therefore a thorough investigations is necessary. If a no confidence motion was brought against Prime Minister, President Sirisena and the SLFP would stand along with the Prime Minister and defend him", he emphasized.
Other Members of the Committee are Ministers John Seneviratne, Anura Priyadharshana Yapa, Sarath Amunugama, Dilan Perera, Lakshman Yapa Abeywardana and Lasantha Alagiyawanna.
Minister Abeywardana said it was beyond any doubt that a misappropriation of money has been occurred as it was extremely unusual that the primary dealer Perpetual Treasuries has earned a profit of Rs. 750,000 an hour from the bond market. Not only that the EPF has obtained 90% 0f the loans from the EPF and the Bank of Ceylon that should be investigated and added the Central Bank must also appoint an independent commission to investigate the bond scam.
Responding to a journalist, Minister Abywardana said the government would not draw commercial loans on higher interest rates from foreign banks and approve only investments and added US$ 4.4 billion was necessary for debt servicing in 2017.
He said a cabinet committee of the SLFP will meet today to further discuss the budget 2017 at the Finance Ministry and after further discussion would decide to support the budget 2017. (Sandun A Jayasekera)