---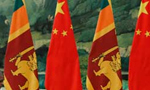 "Sri Lanka is to develop from the Chinese Chong Jing City in order to gain economic benefits," the Prime Minister's office said yesterday.
Talks to this effect had taken place between the Sri Lankan delegation which is visiting China currently, led by Prime Minister Ranil Wickremesinghe, and the authorities of Chong Jing.
"Sri Lanka will focus on Chinese models of development concepts," the PM's office said in a statement.
Disaster Management Minister Anura Priyadarashana Yapa said Sri Lanka would reap the maximum benefits from ties with China and Singapore.
Megalopolis Minister Patali Champika Ranawaka said Sri Lanka hoped to obtain Chinese support to develop the Western Province.