---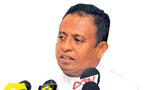 The Government will re-negotiate with India the agreement signed in 2002 with the hope of reacquiring at least 50 tanks for use by Sri Lanka, Petroleum Resources Development Minister Chandima Weerakkody said.
Outlining his Ministry's 2017 programme he said the refurbishment and upgrading of the Sapugaskanda Oil Refinery (SOR) will be launched this year at a cost between US$1.8 billion and US$2 billion. The minister said on the completion the SOR will increase its output to 100,000 barrels a day from less than 50,000 BPD at present and help reduce the annual oil import bill by cutting down on the import of refined petroleum products.
He told a media conference that the ministry has retained Ernest and Young Ltd., to prepare a Business Plan' for the tank farm and will also speak to all stakeholders on the matter.
The tank farm in Trincomalee, built by the British during World War II, was leased to Lanka IOC in 2002 as part of a privatization deal, by the then UNP government, giving the Indians a presence in the port.
The Ceylon Petroleum Corporation (CPC) had attempted to refurbish 30 tanks with the help of Lanka IOC but the project did not come off.
The minister said three oil tanks each will be set up in Trincomalee and Hambantota to store petroleum products to prevent any shortage in the two future mega industrial zones.
Commenting on the ongoing drought the minister said his Ministry would provide all assistance to the Power and Renewable Energy Ministry for an uniterrupted power supply.
Year 2016 was extremely successful with the CPC recording a profit of Rs.85 billion, Petroleum Research Development Secretariat (PRDS) US$369 million and the Ceylon Petroleum Storage Terminals Ltd. (CPSTL) Rs.2.7 billion.
Meanwhile, the minister said the unity government would continue in office until 2020, whatever the joint opposition, SLPP and Mahinda Rajapaksa loyalists said because it was strong enough to withstand any kind of political challenges coming its way. (Sandun A Jayasekera)
Video by RM