---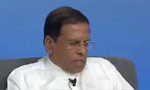 President Maithripala Sirisena said Sri Lanka was in the process of seeking information and assistance to trace stolen assets with the support extended by several countries including UK, USA, India and Switzerland as well as the World Bank.
Addressing the Anti-Corruption Summit in London on Thursday, he said all leaders need to act collectively to strengthen their own law enforcement agencies to track the corrupt and recover the proceeds of corruption.
"Sri Lanka is fully committed to such firm action," he said while appreciating the Summit's move to establish an International Anti- Corruption Centre.