---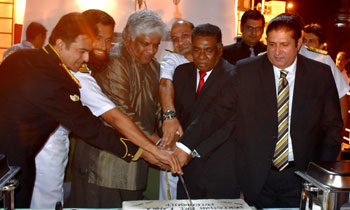 The strategic location as well as the economic health of the country was indicative of Sri Lanka's potential of becoming a hub of global maritime trade, the Acting High Commissioner of Pakistan in Sri Lanka Dr. Sarfraz Ahmed Khan Sipra said yesterday.
Delivering the remarks at a reception held on board at visiting Pakistan Maritime Security Ships 'Hingol' and 'Basol' who are currently in Sri Lanka for a 4-day port call as a reflective of strong multifaceted relationship and engagement between the two countries, Dr. Sipra said that the visit will further strengthen the cooperation between the two navies as well as enhance the strong bond of brotherly relationship between the two countries.
The reception was attended by Ministers, diplomats, senior officers of armed forces, top Government functionaries, business and media personalities, members of Pakistani community as well as officers of the High Commission of Pakistan.
While welcoming the guests on behalf of the entire crew members, Mission Commander Ashfaq Ali thanked the Sri Lankan Navy and the people of Sri Lanka for the warm welcome and hospitality extended to Pakistani ships. He emphasized that relations between Pakistan and Sri Lanka are time tested and based on mutual respect, support and cooperation.