---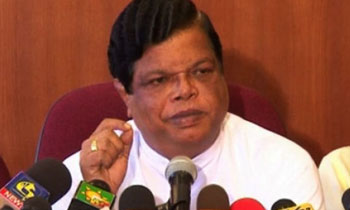 Sri Lanka has recorded 12.3 percent in Misery index as of August due to escalating cost of living, Joint Opposition Member MP Bandula Gunawardana said today.
In a press briefing held in Colombo, MP revealed that during the past regime the Misery index had fluctuated less than ten percent but currently it had exceeded the previous rate.
He said that the people had to struggle for their living as most of the prices of essential food items exceeded Rs.100 per kilo while the unemployment also gone up.
"The land which was once a farm-land had now become a barren land. The country's whole economic system had collapsed therefore the President and economists' attention should be drawn on the matter immediately," MP said.
Also he said according to a recent report issued by the United Nations Food and Agriculture Organization thousands of families in the country had to be satisfied with a single meal following the severe drought affected the country recently.
MP Gunawardana said that the country had never experienced such a situation in the past therefore urged the government to strengthen the country's economic system.
He said the rural folks were severely affected due to the uncontrollable interest rates as a result of the Treasury Bond scam.
MP also outlined that due to unbearable cost of living, the rural people were unable to pay their outstanding debts adding more difficulties to their lives.
MP Gunawardana forecast that the situation could be worsen in the future if the government fails to take preventive measures immediately. (Thilanka Kankarathna)