---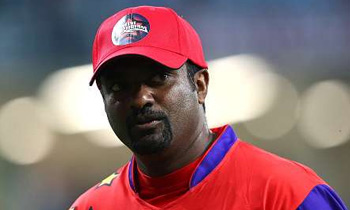 Muttiah Muralitharan believes that talented cricketers do exist in Sri Lanka, but they need to polish their skills a lot more to play in the IPL. Unlike previous seasons, the number of cricketers from India's neighbouring nation, plying their trade in the cash rich league, is far from impressive.
"Are you saying we don't have the talent back home?" One of the greatest spinners of all time,Muralitharan said "At the moment, Sri Lanka does not have capable players to play in the IPL. Australia, New Zealand, South Africa and England, there are a lot of good players there. The tournament can have 32 international players, our guys don't fit into it," the Sunrisers Hyderabad bowling coach opined.
Speaking to reporters on Tuesday, the diminutive former off break specialist said that team owners don't look at Sri Lankan players the same way as before. Muralitharan suggested that his compatriots need to get a lot more experience under their belt before they can be picked up by IPL teams.
"Actually, we are lacking a little bit. We had great players but they all retired. Until the new guys establish themselves, IPL won't pick them because you have to pick the best 4 players. There are other more experienced players available, why should they pick inexperienced Sri Lankan players?"
The 45-year-old looked back on the progress of the game, since he made his debut for the national side way back in 1992. Muralitharan believes that the T20 format has played a crucial role in the development of cricket.
"T20 cricket around the world is helping cricket reach out to more younger people. That is more important because those days, Test and ODI'S was watched by older people. Now there are more younger fans, it's good that the IPL started this in 2007. The payments help the players to live their life," he stated.
Muralitharan, who picked up over 3000 wickets in total during his stellar career, reckons that cricket has changed a lot over the last decade. But he refused to make comparisons suggesting that it would be unfair.
"Cricket is so much different now than in the 90's. In ODI's, 220 was a winning score, today even at 350 you can't be sure. Batsman's mentality has changed but you can't compare generations. Maybe in another 10 years, it will change more," he said.
Last week Cricket South Africa (CSA) started the application process for those who wish to partake in the T20 Global Destination League. But the Sri Lankan believes that without Indian players, the success of such leagues would be minimal.
"Whatever said and done, if Indian players are not going to play in those tournaments, it's not going to be a big hit. Because, everyone wants Indian players, if they're not allowed to play there, it won't have a big impact like the IPL," he said.
Under the tutelage of Muralitharan, Afghani spin sensation, Rashid Khan has taken the IPL by storm. He picked up 3 wickets in his last outing against Gujarat Lions and is the current holder of the purple cap.
"We chose him because we've seen him play international cricket. He's been bowling well to good players, he's different from other leg spinners because he's a bit quicker than the others. In IPL, the bowler knows what to do, all we can do is give confidence," Muralitharan signed off.(SportsKeeda)