---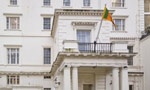 Foreign embassies in London including Sri Lankan High Commission have failed to pay £95,811,650 in congestion charges since 2003, UK Parliament was informed.
"The value of unpaid Congestion Charge debt incurred by diplomatic missions and international organisations in London since its introduction in February 2003 until 31 December 2015 as advised by Transport for London was £95,811,650," Secretary of State for Foreign and Commonwealth Affairs Boris Johnson has informed the UK Parliament.
Accordingly, the Sri Lankan High Commission in London owes an amount of £263,795 as total outstanding.
The worst offenders are the Americans with a bill of £10,626,970, the Japanese with £7,072,020, Embassy of the Russian Federation £5,485,360 and Office of the High Commissioner for India £4,489,825, the latest figures revealed.
The Congestion Charge was introduced by London's first elected mayor, Ken Livingstone, in 2003.
Accordingly, the Congestion Charge is a charge for a service and not a tax.