---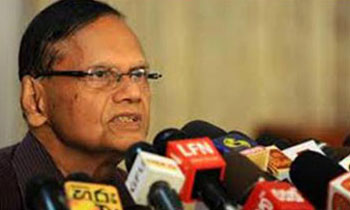 Sri Lankans may follow what happened in Malaysia where Dr. Mahathir Mohamad was elected as the country's Prime Minister with an overwhelming majority at the recent general elections by defeating the incumbent government, the joint opposition (JO) said today.
JO member G.L. Peiris said former president Mahinda Rajapaksa has done a tremendous service to the country just like Dr. Mohamad.
"They are both respected statesmen. People in Malaysia ousted their corruption-riddled government. When given the opportunity at an election, Sri Lankans too will oust the incumbent government. People's power will, in an avalanche-like down pour, sweep away this inefficient and corrupt government," he said.
Prof. Peiris said the government's inefficiency and lawlessness had paved the way for the underworld to raise its head.
"Someone is being killed everyday and the latest killing occurred a couple of days ago in Trincomalee where a man was shot dead. About 37 people had been killed in this manner during the past month," he said. (Lahiru Pothmulla)
Video by Buddhi