---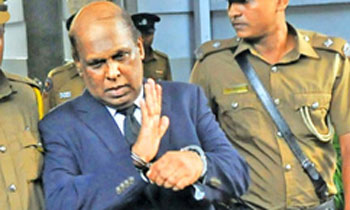 Colombo High Court today granted bail to former SDIG Anura Senanayake on strict conditions considering the revision bail application filed in court on behalf of him.
High Court Judge Manilal Waidyathilaka granted him a cash bail of one million rupees with three sureties of five million each.
The judge imposed a travel ban on him and ordered to report to the CID every Sunday.
He was directed not to interfere with the witnesses.
SDIG Senanayake was remanded for more than 12 months without any charges being filed against him.
President's Counsel Anil Silva who appeared on behalf of former DIG Senanayake moving a special submission held yesterday that court cannot order for any further detention of the suspect, since the time period (12 months) of lawful detention of a suspect in remand was over on May 23, 2017, thereby the ex-DIG should be released without any bail conditions as per section 16 of No. 30, 1997 Bail Act.
However, Refusing requests made by defence counsel to release suspect, Colombo Additional Magistrate Jeyaram Trotsky yesterday ascertained that he has no judicial power to do so. (Farook Thajudeen and Shehan Chamika Silva)