---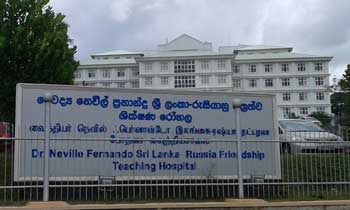 The South Asian Institute of Technology and Medicine (SAITM) yesterday admitted it had only signed a Letter of Intent with the government as part of the process of handing over the Neville Fernando Teaching Hospital (NFTH) .
SAITM Registrar Husni Hussain told Daily Mirror that the Health Ministry was now operating the NFTH. "The SAITM, the Ministry of Health and the Bank of Ceylon (BoC) have signed a Letter of Intent in this respect. Legal proceedings are still underway with regard to the final agreement which is due to be signed soon," she said.
She said the process was being conducted based on the instructions of the government and added that the approval of the Attorney General was mandatory for the agreement to be signed.
Asked whether the Letter of Intent could be revoked by any party, she said that it could not be done as it was in compliance with the law.
She said that the SAITM had undertaken to settle the loan taken by the NFTH from the BoC. (Kalathma Jayawardhane)