---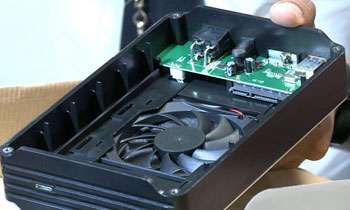 A Sri Lankan national had been arrested yesterday at the BIA with Rs.6.4 mn worth foreign currency notes including Sri Lankan Rupees (LKR) concealed inside a Portable Hard Disk Drive (HDD), Deputy Director and Acting Spokesman Vipula Minuwanpitiya said.
Speaking to the Daily Mirror he said the HDD was among his other goods, while he was attempting to smuggle out to Singapore.
"The suspect who was a resident of Nugegoda holds a platinum privilege card from the airline he used to travel frequently to Singapore.
He was identified himself as a partner of a small business.
During the investigations 35,015-US Dollars (USD), 319 Singapore Dollars (SD), 1,100 Euros and 25,000 Sri Lankan Rupees (LKR) were found inside the portable HDD which was amounting to Rs.6,413,273, Mr. Minuwanpitiya said.
"The foreign currency was detected after the goods went through the scanner and finally the Customs Officers decided to open the HDD and look into it," he said.
Mr Minuwanpitiya said according to the amendments made to the Customs Act, foreign currencies, including the local currency, would be confiscated and no fines were imposed on the suspect.
Further investigations were carried out under the directive of Customs Additional Director General Stanley Senarathne, Customs Director M.A Karunarathne, Deputy Directors V Minuvanpitiya, S.P. Kiriwaththuduwa and Customs Superintendents D.W.K Wijethunga and M.I.M Ismail. (Chaturanga Samarawickrama)