---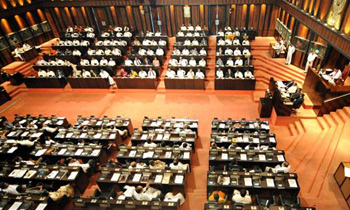 A supplementary estimate to seek Parliament's approval to spend more than Rs.360 million to purchase vehicles for some ministers and renovate official residences of several other ministers was presented to Parliament today.
Accordingly, approval was sought to spend Rs. 154 million to purchase new vehicles for the Ministry of Defence which is under President Maithripala Sirisena while Rs. 120 million was sought to purchase vehicles for the Finance Ministry.
Approval was also sought to spend Rs.43 million to purchase a vehicle for the Deputy Minister of Rural Economy and Rs. 16 million to purchase a vehicle for the Minister of Development Strategies and International Trade.
The notes of the supplementary estimate said funds that were allocated for the purchase of vehicle in 2016 but remains unutilized will be used.
In addition Rs.3.4 million was sought for the repairs of the official residence of Social Empowerment and Social Welfare Minister, Rs.1.2 million for the repairs of the official residence of Digital Infrastructure Development Minister and Rs.5.9 million for the renovation of Central Province Governor's official residence. (By Yohan Perera)