---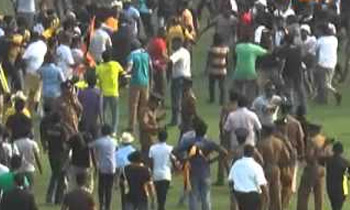 The student of the Mahanama College, who had been arrested for forcibly entering Yashodara Balika Vidyalaya, was ordered to be sent yesterday to the Probationary and Child Care Centre in Makola until March 31 by the Hulftsdorp Magistrate's Court.
A spokesman for the Police said Police officers in civvies and uniform and the emergency Mobile Police Unit would be deployed in the vicinity of all girls' schools within the Colombo City limits.
"Stern action will be taken against students who engage in such acts using the big match as an excuse," he said.
The Police said the student was among several others, who had forcibly entered the girls' school down Kinsey Road yesterday during a parade that was held in lieu of the big match to be held this weekend.
The rowdy students had not only frightened staff members but had also assaulted an employee of the school, according to the Police.
The Police said they were investigating the incident.(DS)