---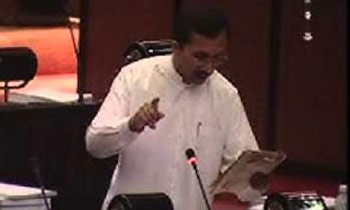 The parliamentary Committee on Public Enterprises (COPE) in its report on the investigation into the questionable import of a stock of rice has held both the present and the previous governments responsible for the losses amounting to more than Rs.15 billion.
COPE Chairman Sunil Handunnetti who presented the investigation report to Parliament said the country had lost Rs.15.157 billion as a result of the scam that began in 2012 and continued in 2015 under the present regime. The report revealed that rice was imported to Sri Lanka in 2012, 2013 and in 2015 without Cabinet approval, despite their having been an excess production in these years.
It was also revealed that the cost of living sub-committee during the period 2012 to 2015 had either failed to carry out a proper survey on the supply and demand of rice or had been misled and neither had there been proper stock records.
COPE said the authorities had failed to realise the negative impact on the country's agricultural sector by the import of rice.
The committee had recommended an introduction of a tender procedure to Sathosa and advised the cabinet to ensure the receipt of correct data.
COPE has recommended that those responsible for the scam be penalized and the losses recovered from them. (Yohan Perera and Ajith Siriwardana)