---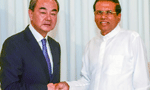 Chinese Foreign Minister Wang Yi yesterday appreciated the leadership of President Maithripala Sirisena in creating the environment for resumption of the Port City development project.
Mr. Yi expressed these views when he met with President Sirisena yesterday.
President Maithripala Sirisena, expressing his gratitude for the efforts of the Chinese government to fight the CKDu in Sri Lanka by establishing a special hospital for Kidney patients said "Such goodwill measures will bring our two countries closer together".
The leaders affirmed that China – Sri Lanka relation will rise to a new height as diplomatic relations between the two countries complete 60 years next year.
During President Sirisena's visit to China last year, and subsequent visit by Prime Minister Ranil Wickremesinghe's visit to China last April, the leaders of the two countries reached broad consensus on further strengthening traditional bilateral friendship and forge ahead with cooperation on major projects." This visit came as a result of that broad consensus of cementing relationship and the invitation extended by Foreign Minister Mangala Samaraweera to his Chinese counterpart.
Welcoming the Chinese Foreign Minister Wang Yi, President Sirisena mentioned the millennia-long relationship traditional between the two countries. He further appreciated the assistance given by the Government of China during the last phase of war to eliminate terrorism from Sri Lanka.
He also appreciated the support extended by China when country was facing difficulties in international fora.
While welcoming more public and private Chinese investments to Sri Lanka, President expressed the importance of working on Development Corporation further.