---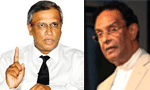 Tamil National Alliance (TNA) MP M. A. Sumanthiran, yesterday, told Prisons Reforms, Resettlement, Rehabilitation and Hindu Religious Affairs Minister D. M. Swaminathan to resign his portfolio and hand over his ministry to someone else if he could not work for the Tamil people.
"You have failed to work for the Tamil community in the North who were affected by the war. Please resign if you can't work and hand over your ministry to someone else. There are many others in the government who can do a better job," he said.
Mr. Sumanthiran opposed the move initiated by Mr. Swaminathan to construct prefabricated houses in the North. "Brick houses are much cheaper," he said.
Opposition Leader R. Sampanthan also expressed similar views on the prefabricated houses. (Yohan Perera)