---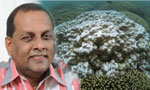 An Environmental Feasibility Report (EFR) is being drafted by the Minister of Fisheries and Aquatic Resources Development requesting the removal of the natural reef which claims to hinder the Dehiwela coastal line and to build a breakwater. Minister of Fisheries and Aquatic Resources Development Mahinda Amaraweera has requested for this report and after inspection, the Minister has suggested removing the reef and building a breakwater.
However, Mr. Amaraweera has also pointed out the risks that the people will face once the reef is removed. Therefore soil erosion will take place faster and many houses will be washed away. Once the report is submitted the Ministry will be allocating funds to remove the reef and to build a breakwater and allow the fishermen to engage in their activities.
Eminent environmental expert and systems ecologist Dr. Ranil Senanayake said that if this breakwater is removed Colombo will be losing its last environmental protection against the rising of the sea level. "The politicians don't understand the gravity of its impact after it's removed. For all these years, how did these boats leave to the sea? Why do they suggest that it should be removed all of a sudden? This is completely ridiculous and if future there will be many adverse impacts on climate change if such an action is being taken."
Aruna Roshantha of the All Ceylon Fisheries Union said that removing the natural breakwater is not a wise thing to be done. "Fishermen too have their own experiences. If they claim it to be a barrier for them, then the authorities should ensure that they develop favourable conditions for the fishermen to do their fishing. Some of them do fishing during the night and during the days of rough tides, there could be an added risk.
According to the fishermen this reef has caused many deaths while on their voyages and has imposed a huge risk on their lives. So far 6 fishermen have lost their lives as a result of their boats hitting the reef and eventually capsizing. However, the Daily Mirror also learned that over the years, the fishermen have been taking their boats out to the sea through a place named 'kadamaththa', a U-shaped inversion that has been designed for this purpose. Yet, during the night fishermen usually forget where they have to leave from and at times they are under the influence of alcohol.
A few days back a protest was held by a group of fishermen blocking the railway lines in Dehiwela and requesting the authorities to remove the reef that is obstructing their day-to-day activities. The issue was taken in to consideration by the Minister two months ago and after his visit to the area he has decided to remove the reef and build a breakwater to reduce the rising sea level.
A meeting will be held today at the Ministry to discuss about the removal of the reef with the presence of the Minister and the fishing community. (Kamanthi Wickramasinghe)