---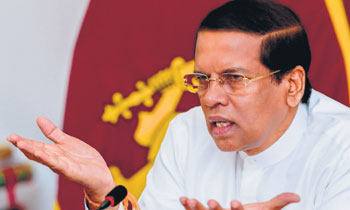 President Maithripala Sirisena said today he would accept the Supreme Court determination whatever it might be on his term of office and was ready to leave the presidency even today.
The President told a public rally at Akuressa that no one needs to get worked up over him seeking a SC determination on the expiry of his tenure.
"I sought an SC determination to clarify the two public opinions expressed on the term of the presidency and not to find out how many years I can continue to function as President," he said.
The President said he didn't come to stay in the presidency forever. "However, I will stay committed to fulfil the dream of uplifting the country which is well-accepted by the world and that is where reconciliation reigns," he said.