---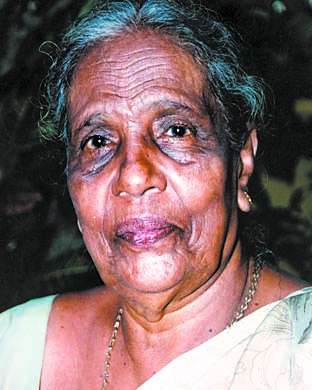 Veteran film, stage, tele-drama and radio artiste Rathnavali Kekunawela who became a household name following her hit character as 'Menike' in the Muwan Pelessa radio play passed away today at the age of 87.
Her funeral will take place at the Borella General Cemetery at 4 pm on Monday, April 9.
Having entered the radio scene in the early fifties inspired by her elder brother Victor Miguel, Rathnavali first acted in the film Sath Samudura in 1967 and followed it up with several movies like Mee Messo, Ada Mehemai, Diyamanthi, Nilla Soya, Maruwa Samaga Wase, Asha Desin, Muwan Pelessa, Wasanthe Dawasak, Uthumaneni, Parithyaga, Karumakkarayo, Aradhana, Batti, Kawuluwa, Boradiya Pokuna, Julietge Bumikawa, Nilambare, Paya Enna Hiruse, Dadyama and others.
However, her characters in radio plays like Maha Re Hamuwu Sthriya, Kurulu Bedda and Muwan Pelessa amplified her popularity.
She was Muwan Pelessa's Menike for several decades and even today she is known by that character.
The award-winning actress also acted in stage plays and popular tele-dramas. The remains now lie at No. 25/1 C, Wedikanda Road, Ratmalana. (Ramesh Uvais)