---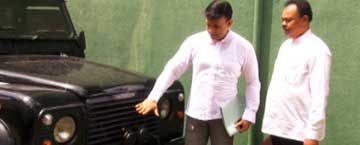 Deputy Minister Ranjan Ramanayake and joint opposition MP Mahindananda Aluthgamage are reported to have exchanged blows in the parliamentary complex outside the Chamber over some allegations made in the social media.
Mr. Aluthgamage is reported to have inquired from Mr. Ramanayake about an allegation made against him in the social media and this had resulted in a heated argument including obscenities. The two had then exchanged blows but the fracas was prevented from going any further with the intervention of others such as JVP Leader Anura Kumara Dissanayake.
Recently, the people had witnessed similar exchanged of blows between MPs leading to the hospitalization of a member and the suspension of two others from attending Parliament.
Mr. Ramanayake confirmed that he was involved in a fracas with Mr. Aluthgamage and the exchange of blows.
"I leaked some information about the abuse of a Defender vehicle by Mr. Aluthgamage. I was talking to Mr. Dissanayake in the lobby when Mr. Aluthgamage walked up to me and blamed me for giving such information to the media. It led to an argument. We traded blows," he said.
Mr. Ramanayake said he was given the information by Kandy District MP Ananda Aluthgamage to be leaked to the media. (Kelum Bandara and Yohan Perera)
Video by Sanjeewa