---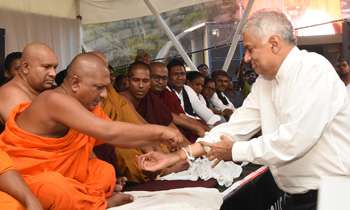 UNP Leader Ranil Wickremesinghe today proposed a gathering of all parties to decide on an election, but said Sri Lanka's constitution must be safeguarded at all times.
Mr. Wickremesinghe said this while visiting the Sathyagaraha conducted by civil society groups against the violation of the constitution.
"Political parties can discuss and decide on having an election, but it is essential that the constitution is followed when doing things," Mr. Wickremesinghe said.
"The constitution has been kicked aside for the first time and a Sathyagaha is being held against it, while protests are being held all over the country. The struggle to ensure the rule of law and to preserve the constitution must continue," he added.
He then thanked all those who had organized the Sathyagaraha and placed his signature on a public petition against the appointment of a new Prime Minister and government. (Yohan Perera)