---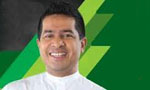 Prime Minister Ranil Wickremesinghe would be the next President of Sri Lanka in the forthcoming Presidential Election, Chairman of the State Services' National Trade Union Federation (SSNTUF) MP Sujeewa Senasinghe said today.
Addressing the media at the duty assuming ceremony as the new chairman of SSNTUF, MP Senasinghe said the United National Party (UNP) would carry out the Government for the next twenty years.
"The dawn of the UNP's golden era is now about to start. We only need an opportunity for it. I can proudly announce that there were UNP rulers such as J.R Jayewardene and Ranasinghe Premadasa. Sri Lanka will be a developed country within the next five years under the UNP Governance," he added.
Meanwhile, he guaranteed the people to take the former Inspector General of Police (IGP) and the Rajapaksa's generation before the law regarding the murder of Ruggerite Wasim Thajudeen.
"With the appointment of the new IGP and the Attorney General (AG), the things have turned to new direction. We have got responsible IGP and AG," he added. (Kalathma Jayawardhane)
Video by Isuru