---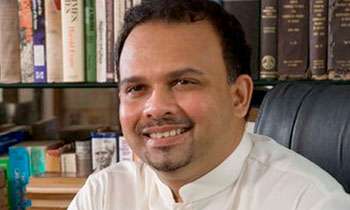 Plantation Industries Minister Navin Dissanayake, who is the National Organiser of the United National Party (UNP), said his party had identified three personages – Prime Minister Ranil Wickremesinghe, Housing and Construction Minister Sajith Premadasa and Speaker Karu Jayasuriya - to be potential presidential candidates.
In a brief interview with the Daily Mirror, Minister Dissanayake said the party would choose one of them as the candidate at the right time. He said Prime Minister Wickremesinghe could be considered the foremost candidate out of the three.
"It is too early to think about that (the presidential candidate). We have two or three good candidates. Our leader Ranil Wickremesinghe is the foremost candidate. Then, we have Speaker Karu Jayasuriya and Minister Sajith Premadasa. Or else we can look at an alternate common candidate. But, these are the names coming up within our circle," he said.
Asked about his previous comments that the UNP was bracing for a parliamentary election, he said, "We should be ready for any election. It is in that context that I said it. I am not taking away the fact that the presidential election is due first legally. The President presented a cabinet paper saying that the provincial council elections should be held first. There are various views on which elections should be held first. As a national organiser, by chance, if there is a setback in parliament, we have to be ready for a general election. We should put out a positive budget for people. After that, our party mechanism has to be ready even for a general election. I think we can be ready on time. The UNP, and some other parties, favour a presidential election. You cannot always expect a best case scenario. You must also expect the worst case scenario. What I am saying is that let's get ready for the worst case scenario. That is to have elections under the old system by reverting to the 1988 Elections Act. You have to bring an amendment to the Act for this. You also need the consensus of the minority parties. If you can get the consensus of all the parties, we have no objection. It has to be a consensual approach. It cannot be to suit a political agenda," he said.
Speaking further about the probability of a presidential election, he said, "We are getting ready for it. There are a very months available for it. We have got the government back. We are organising a campaign now. We are going to appoint some more organisers. We will also appoint district organisers. We are going to reorganise the party's branch structure. We are going to have a better communication strategy. We are very bad in that respect. We are looking at attracting new youth votes. There will be 1.7 million new voters. We have various strategies outlined.
Q. You decried Minister Sajith Premadasa being slandered in the social media. Who is doing this?
A. We have a feeling of brotherhood among our second rank leaders. We are not going to undercut each other. In politics, you can say something openly and another inside. The social media campaign against Sajith is totally uncalled for. It is very bad. We should encourage him to do more work. I cannot comment on it. I think it is a combination of Pohottuwa and internal. Mr. Premadasa was direct in his attack against a former minister. This could be a counter action.
Q. How can you sort out these issues within the party?
A. Egocentric politics or individualism should not be encouraged. We should act collectively. I have to tell you that Mr. Wickremesinghe has brought the younger lot together. There is a feeling of brotherhood as I mentioned earlier. We either sink or swim together. What we want is to win the presidential election. Our future and our country's future depend on that. Although we have our individualities and differences of opinion, we want to ensure that we have a good system in place. It is important to have team unity. (Kelum Bandara)