---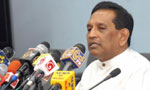 While rejecting Justice Minister Wijeyadasa Rajapakse's recent statement in Parliament that some 32 Sri Lankan youths had joined the IS, Cabinet spokesman Minister Rajitha Senaratne today said that the statement was completely incorrect and misleading.
Addressing the weekly cabinet press briefing in Parliament, Minister Senaratne said according to the armed forces intelligence reports, only four Muslim youths had joined the IS but they have joined the militant group from abroad.
"I have reliable intelligence reports that the information given to Minister Rajapakse was not correct. But unfortunately, the statement made by Minister Rajapakse in Parliament recently has created a confusion and anxiety among the Muslim community in Sri Lanka. Someone has given him misleading information. Not a single Muslim youth joined IS directly from Sri Lanka," Minister Senaratne said.
He said the government must create confidence among the Muslim community as 90% of Muslims are a moderate and passive community and only 10% of Muslim youths are prone to fall into extremist ideologies and added whoever comes to Sri Lanka with the ruse that they are coming here to propagate Muslim, they are screened by the NIB (National Intelligence Bureau).
Minister Senaratne said some 30 shocked and distressed Muslim organizations over the remarks made by Minister Rajapaksa representing the entire Muslim community in Sri Lanka had sought a discussion with him to sort out the issue and he would meet them shortly after briefing President Maithripala Sirisena.
He charged that the joint opposition was in a dastardly move to create communal disharmony by inciting Muslims and Tamils in the South, East and North with the sinister motive to block Muslim and Tamil votes for the SLFP or the UNP in a future election as they think they could win elections only from Sinhala Buddhist votes which will be their waterloo.
Responding to a journalist on the military conspiracy theory suggested by Parliamentarian Dinesh Gunawardane, Minister Senaratne said it was the most malicious and vengeful statement made by a Sri Lankan politician ever. (Sandun A Jayasekera)
Video by Rishan