---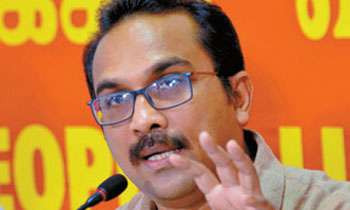 Rajapaksas and Wickremesinghes are both involved in the bond scam, JVP MP Bimal Ratnayake alleged in Parliament.
The MP said this in response UPFA MPs who protested when he spoke of Perceptual Treasuries chief Arjun Aloysius had attended the wedding of former President Mahinda Rajapaksa's son Rohitha Rajapaksa.
Mr. Ratnayake also responded to the government MPs who laughed when he said both Rajapaksas and Wickremesinghes are involved in the bond scam.
" You people should not laugh as there has been no other government which has kicked mandate you received off," he told the UNP government.
Deputy Minister Ranjan Ramanayake also criticized the UNPers and Arjun Aloysius for attending the wedding. " I don't want to talk about weddings but I must clearly say that no one invites enemies to a wedding but only friends and relatives," the deputy minister said. (Yohan Perera and Ajith Siriwardene)