---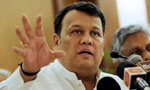 President Maithripala Sirisena has no intention of abolishing or disrupting the investigations being carried out by the independent commissions, Minister Mahinda Samarasinghe said yesterday.
He said this when referring to the President's statement in which he was reported to have said last Wednesday that he would have to take action if the independent commissions were functioning based on a political agenda.
The minister told those gathered at the 'Kethaka Aruna' agricultural ceremony held in Kalutara that the President's statement only intended safeguarding the war heroes who had sacrificed their lives to protect this country.
"Several political parties have attempted to distort the contents of the statement to satisfy the opposing political elements. Even some media institutions have misinterpreted his statement," he said.
The minister said the President and Prime Minister Ranil Wickremesinghe's motive was to spread democracy throughout the country by stabilizing its economic, political and social standards and pointed out that allegations made made against the President that he was planning to take action against the CID, FCID and Bribery Commission was just a conspiracy by mischievous elements.