---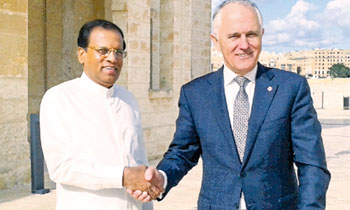 President Maithripala Sirisena met Australian Prime Minister Malcolm Turnbull at the National Parliament building in Canberra and held bilateral talks today.
President Sirisena is scheduled to visit Sydney during the three-day official visit. This is the first time a Sri Lankan Head of State has made a state visit to Australia and it follows Prime Minister Ranil Wickremesinghe's Australian visit in February.
Australian Premier said in a media statement earlier that action against human smuggling, education, defence, science and technology, economic development and medical research were among the topics which would be discussed.