---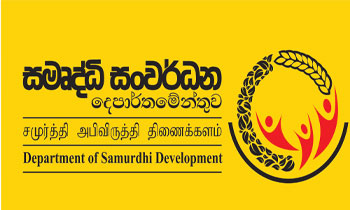 President Maithripala Sirisena had ordered the Department of Samurdhi Development to halt the recovery of loans issued for housing renovation of low income families by the Samurdhi Banks during the previous government.
These loans have been sanctioned by the then 'Divineguma' department for Samurdhi beneficiaries.
Speaking to the Daily Mirror, Samurdhi Development Department Director General Dr. S.J.Nawarathna said the President had instructed him to stop deduction of loan premium from the monthly Samurdhi allowance .
Under the theme of "a prosperous home" Rs. 2,500 were given for each house which required further repairs of Samurdhi entitled, low-income families.
It was expected to provide an allocation subject to a maximum of Rs. 10,000/= in four stages for the repair (supply of roofing sheets/construction of roof/construction of walls/plastering, preparation of work site etc) of the houses of low income earners. However, only the first phase had been released.
The Department recently decided to recover the money, issued in the form of loans, by deducting it from Samurdhi allowances.
A total of Rs 3 billion had given to Divineguma' beneficiaries according to the programme. (Thilanka Kanakarathna)