---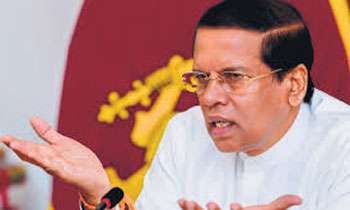 President Maithripala Sirisena today requested the electrical engineers to halt their scheduled trade union action on May 08, based on professional issues.
He said their issues would be taken up for discussion at the Cabinet and assured to provide a satisfactory solution.
He said this during a meeting on swift implementation of the long-term power generation plan held at the Presidential Secretariat yesterday.
The President gave instructions to the Public Utilities Commission of Sri Lanka to take the necessary steps expeditiously to implement the long-term power generation plan for the time period of 2018-2037.
The Ceylon Electricity Board has prepared the long-term power generation plan, including the details of new Power Plants which should be constructed during the time period of 2018-2037 to meet the electricity demand of the country.
During the meeting, the President emphasized to the officials the necessity of prompt implementation of these works and further said that if there is obstacle to implement this plan, they should take steps to eliminate those obstructions by holding discussions.
President Sirisena further said that when paying attention to the issues, due consideration should be given to public conveniences and take steps in a humane manner.