---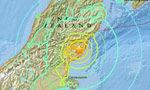 The US Geological Survey said the magnitude-7.4 quake hit just after midnight (11:02 GMT on Sunday), some 95km (59 miles) from Christchurch.
The ministry of civil defence has warned people on the east coast of the South Island to move to higher ground in case of tsunamis.
Christchurch is still recovering from the 2011 earthquake that killed 185 people and destroyed the city centre.
New Zealand lies on the notorious Ring of Fire, the line of frequent quakes and volcanic eruptions that circles virtually the entire Pacific rim.
The Herald newspaper said the tremor was felt all the way to Wellington, where sirens sounded and people fled buildings into the streets, some of them crying.
Early reports suggest some houses in Cheviot town, near the epicentre, have been damaged.
A resident of Christchurch said the tremor lasted a "long" time.
"We were asleep and woken to the house shaking, it kept going and going and felt like it was going to build up," she told AFP news agency.
A magnitude-7.1 quake struck 169km (105 miles) north-east of Gisborne on the North Island in September, sparking a tsunami warning. It caused some damage to property, but no injuries. (BBC)