---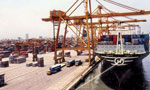 Following Prime Minister's directive to Minister of Ports Arjuna Ranatunga to reimburse the festival bonus to the port workers at the Colombo Habour, the work-to-rule campaign of the workers was called off, the Trade Unions' Collective said today.
The protest was launched by the Trade Unions' Collective comprising seventeen trade unions of the Colombo Habour including Jathika Sewaka Sangamaya (JSS) and Nidahas Sewaka Sangamaya (NSS) against the decrement of Rs. 4, 500 from the total amount Rs. 30, 000 festival bonus of the workers.
Following the protest, a meeting was held at the Temple Trees between the trade union leaders and the Prime Minister along with the Ports & Shipping Minister and Labour Minister John Seneviratne.
Speaking to the Daily Mirror after the discussion, the Co-Convener of the Trade Unions' Collective Udeni Kaluthanthri said they hoped that Minister Ranatunga would take action to reimburse the amount to the festival bonus before the New Year festival.
"The Prime Minister assured that the amount would be reimbursed soon, so we decided to call off the trade union action. Therefore, all the activities at the Colombo Habour will be brought back to normal," he said. (Piyumi Fonseka)
Video by Buddhi