---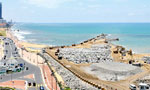 The Government is reported to have proposed the allocation of two more hectares of land to the Port City Project to off-set loss of US$143 million caused by the suspension of work after the new government assumed office.
Prime Minister Ranil Wickremesinghe has submitted separate Cabinet papers outlining plans for the resumption of the project and the reclaiming of a landmass of 262 hectares from the sea adjoining the Colombo Port.
The project was launched by the Rajapaksa Government in 2014. Later, the new government suspended the project saying it needed to be reviewed but later decided to go ahead based on a fresh agreement.
CHEC Port City Colombo (Pvt) Ltd which is handling the project claimed compensation for the loss caused by the suspension resulting in financial losses, cost of staff retrenchment, losses due to price fluctuations, financial charges by banks, etc.
The company estimated the loss incurred at US$134 millions as at March 23 this year, according the document circulated among the Cabinet Ministers. However, the Committee of Secretaries, appointed to negotiate with the company, has proposed to find alternative ways to off-set the loss instead of any cash payment.
According to the original agreement 20 hectares were to be given to the company on a freehold basis and the balance on a 99-year lease. However, the new government decided do away with the freehold basis and instead offer it on a 99-year lease. After the lapse of 99-year lease period the lessee will have the right to lease out the land to a third party on another 99-year lease.
Instead of the Sri Lanka Ports Authority, the Urban Development Authority (UDA) will be in charge of the land to allocated to the government with the Ministry of Megapolis, the UDA and the Project Company signing the tripartite agreement for the resumption of operations.
The reclaimed land will be gazetted as parts of the Colombo district. (Kelum Bandara)