---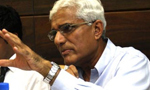 The new Central Bank Governor Indrajit Coomaraswamy, who assumed duties today, said politics had mixed up economics ever since the country achieved Independence.
"Ever since this country gained Independence, economy has been mixed up with politics. I don't want to point the finger at any party but just want to emphasis that politics and economics have been mixed up by all governments. But I would like to stress that good economic policies result in good politics," he said.
He said he would work straight and fear none.
"When I met President Maithripala Sirisena, he advised me to work straight and fear no one. I will follow his advice and work straight and fear no one," he said.
He said the Central Bank should not engage in creating artificial economic booms but make sure the economy was stable.
Dr. Coomaraswamy recalled his meeting with Prime Minister Ranil Wickremesinghe as well.
"When I met the Prime Minister he read out the vision he has for the country and there is a big role for the Central Bank to play. If we do not work the way we should, the country will not be where it should be. Strong macroeconomic stability is essential. If that does not exist nothing can be done," he said (Yohan Perera)