---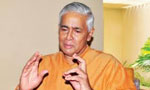 Imposing VAT increment on services, which were exempt, was illegal and people had already paid the extra money, former Chief Justice Sarath N. Silva said yesterday
People have already paid 15 per cent as VAT in the healthcare sector, which is a VAT exempted service, he said.
"If a Bill was presented in Parliament to implement VAT, it is in effect from the date it was presented in Parliament. Normally, a Parliament decision is implemented after it is passed in Parliament. Parliament, however, has the power to implement such decisions with retrospective effect," he said.
"This decision to increase VAT was made to meet the requirements of the IMF. However, the Government has only received US $ 220 million thus far," the former Chief Justice said.
The Value Added Tax (VAT) was increased from 11 to 15 percent hurriedly due to the requirement of the International Monetary Fund (IMF) to obtain the first tranche of the US $1.5 billion loan, Silva claimed.
The VAT was increased to the previous 11 to 15 on May 2 this year.
"The Supreme Court interim order suspending the implementation of revisions made to the VAT and the Nation Building Tax (NBT) is correct," he said.
"Taxes cannot be imposed without the approval of Parliament but it can give its power to some other person or a party, to take decisions on tax," he said. (Chaturanga Pradeep and Indika Sri Aravinda)
Video by Indika Sri Aravinda