---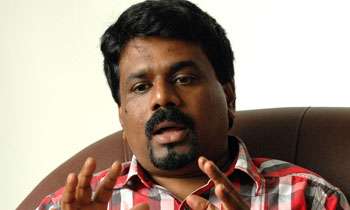 While praising the verdict delivered by the Supreme Court that President Maithripala Sirisena's decision to dissolve Parliament was unconstitutional and illegal, JVP leader Anura Kumara Dissanayake said today parliament should still be dissolved.
Speaking to the media after the deliverance of the verdict at the Supreme Court premises, he said there are three steps that needed to be taken in parliament, such as making laws to punish the conspirators of this political crisis, passing the 20th amendment and bringing in a resolution to dissolve Parliament.
"It is clear that both Maithripala Sirisena and Mahinda Rajapaksa have acted unconstitutionally and undemocratically. Let's not forget that the undemocratic tactics of Ranil Wickremesinghe,
Hence, the JVP is of the opinion that there is no moral and democratic right for the team of Mr. Wickremesinghe to represent people in Parliament. The current parliament does not reflect the public opinion," Dissanayake said.
He said they would continue to launch their struggle to restore real democracy.
Nevertheless, he said one of the main reasons to end up in this political turmoil in this country is the executive presidency and therefore JVP would bring in a resolution in parliament to get the 20th Amendment passed. (Sheain Fernandopulle)