---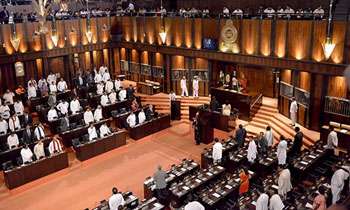 Speaker Karu Jayasuriya said today Parliament would meet tomorrow at 10.00 am as per the Gazette (2095/50) issued by President Maithripala Sirisena dated November 4, 2018, the Speaker's office said.
It said in a statement that all MPs were requested to attend the sessions tomorrow.
President Maithripala Sirisena on November 27 prorogued Parliament till November 16 and later issued a gazette to convene it tomorrow.
However, the President dissolved Parliament from November 9, 2018.
The Supreme Court, after considering the Fundamental Right petitions, today issued an interim order till December 7 staying the proclamation issued by President Maithripala Sirisena to dissolve parliament and thereafter the Speaker today said that the Parliament would meet tomorrow as scheduled before. (Ajith Siriwardana)