---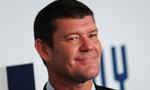 The Government should reveal the purpose of Australian billionaire James Packer's visit to Sri Lanka, even after he had been told by the current government that he was not welcome in Sri Lanka, the joint opposition claimed today.
Opposition MP Weerakumara Dissanayake told a news conference that they had been informed by reliable sources that Mr. Packer had arrived in the country yesterday and is currently staying at Hilton Hotel in Colombo.
"Where are those including Champika Ranawaka, Anura Kumara Dissanayake and the Jathika Hela Urumaya who spoke against Mr. Packer during the tenure of the previous government. At that time Mr. Packer's activities were carried out openly. But, now Mr. Packer is coming to Sri Lanka and carrying out his activities in secret. He has launched his mission in secret. The government must make a statement on this matter as soon as possible," Mr. Dissanayake said.
"The government may say that if Mahinda Rajapaksa's government can bring him into Sri Lanka, why can't we." (Piyumi Fonseka)