---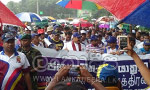 The Jana Satana Paada Yathrawa organised by the Joint Opposition reached Kegalle town a short while ago on its second day.
The procession was launched yesterday in Peradeniya and ended in the outskirts of the Mawanella Town.
The Paada Yathrawa was launched from Uthuwankanda today by former president and MP Mahinda Rajapaksa and is now passing through the Kegalle Town.
MPs Wimal Weerawansa, Prasanna Ranatunge, Pavithra Wanniarachchi, Johnston Fernando and others are leading the procession, which is scheduled to reach Nelumdeniya this afternoon.
Video by Chamilka