---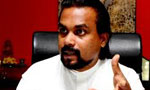 The Joint Opposition (JO) said yesterday that its Jana Satana Paada Yathrawa was a major success despite statements to the contrary by the government -- and that the march proved that it, and not the Opposition in parliament, was the real Opposition.
Speaking at a media briefing, Wimal Weerawansa MP alleged that the JO was the opposition of the people and that the Opposition in parliament was appointed by the Government.
"This is why the Opposition Leader and Chief Organiser of the Opposition (who were both appointed by the government) continue to criticise the Paada Yathra. We challenge them to bring together at least one eighth of the people who gathered at the Paada Yathra at one place," he said.
He also accused the police chief of being politically biased.
Meanwhile, the Paada Yathra Organising Committee chairman, Mahindananda Aluthgamage said the government's arbitrary decisions were being endorsed by parliament because it had created an artificial two-thirds majority in parliament.
He said the Paada Yathra proved that it was the JO that had the backing of a majority of the people and that at least 2 million people had joined in the march.
"Our intention was not to send the government home but to send a warning to it to stay on the right path. It should address the issues of the postponement of local government elections, tax increases, the ETCA, the curtailment of farmer's relief, the Constitutional trap and political witch-hunts," he said.
He said that if the government signed the ETCA, the JO would take to the streets again, and the government would then have many problems. "The next time, we won't just issue warnings, we will get together to chase the government away," he said. (Lahiru Pothmulla)
Video by Buddhi