---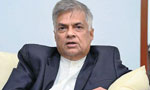 Prime Minister Ranil Wickremesinghe had directed Secretary to the Ministry of Mass Media Nimal Bopage not to issue press releases without the approval of the Subject Minister.

Sources at the Prime Minister's Office told the Daily Mirror that the Prime Minister had instructed Mr. Bopage to abide by the rules.

Accordingly he had told the Secretary that he had no right to issue statements with regard to political matters.

"Discuss with the Minister and obtain his approval before releasing any media release and refrain from issuing media releases pertaining to political matters, was the advice given by the Prime Minister," sources said.

Premier Wickremesinghe had also told Bopage and Minister of Mass Media Gayantha Karunatilleke that he would discuss the matter with President Maithripala Sirisena shortly.

A Spokesman for the Media Ministry, who confirmed the meeting the Prime Minister had with Mr. Bopage and Mr. Karunatilleke last morning, said the meeting was a routine one but the Secretary to the Ministry was summoned to the meeting because of the media release, which had caused a stir.

The media release issued by Mr. Bopage last week said the media should not use the term 'Joint Opposition' in an illegal manner. (Yohan Perera)
Video by Sanjeewa