---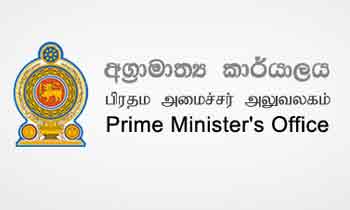 Complaints regarding corruption in the state sector could be lodged with the newly set up Prime Minister Ranil Wickremesinghe's public relations office, officials of the premier's office said yesterday.
This was announced by the head of PR at the Prime Minister's office J. Dadallage and Deputy Chief of Staff of the Prime Minister's office Rosy Senanayake yesterday morning.
Mr. Dadallage told journalists that complaints regarding corruption made to this office would then be referred to the relevant investigating institutions such as the Financial Crimes Investigation Division (FCID), CID and the Bribery Commission.
This was in reply to a question posed to him by journalists as to whether the Prime Minister's Public Relations office had any mandate to look into corruption. "Some of the issues which various people brought to the attention of the Prime Minister's office were complaints about corruption and malpractices, which we have referred to the relevant institutions and we will do the same in the future as well," he said.
Ms. Senanayake explained that the Prime Minister's office had received 48, 816 complaints from the general public so far this year. She said this comprises various issues they were facing and some complaints of malpractices.
"What we intend doing in this office is to receive the complaints and requests from the general public, refer them to the relevant government institutions and obtain feedback on them," she said.
She said even issues faced by public servants could also be referred to this office for a solution for a solution to be found.
Prime Minister's Public Relations Office, which is located in the building where the Anti Corruption Secretariat was housed earlier, was declared open last morning. (Yohan Perera)