---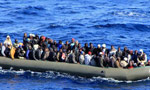 The bodies of more than 100 people who drowned trying to cross the Mediterranean Sea were found washed up on beaches near the Libyan city of Zuwarah, a Libyan navy spokesman said.
Colonel Ayoub Gassim told The Associated Press on Friday that at least 104 bodies have been pulled out of the waters near the western city, but that the expected death toll is likely to be higher since such boats usually carry up to 125 people.
Most of the victims appeared to be from sub-Saharan Africa, though their bodies were decomposed and it was not clear when they had drowned.
The bodies of two children were among those recovered.
On Tuesday, the UN refugee agency said at least 880 people drowned over the past week following a series of shipwrecks as departures from the North African coast towards Italy surged.
Many of the boats are believed to have left from the shore around Zuwarah and Sabratha in Libya's northwest.
A coastguard spokesman in Tripoli said no boats had been intercepted over the past two days, with rougher seas preventing patrols.
People smugglers in Libya have exploited political chaos and lawlessness to expand their activities along routes from sub-Saharan Africa, often working with local armed groups.
The head of the EU's Mediterranean naval mission recently said that people smuggling was estimated to account for between 30 and 50 percent of the gross domestic product in northwestern Libya. (Al Jazeera)